---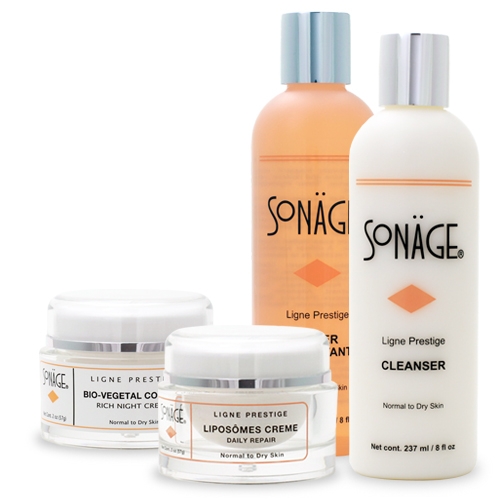 Sonage lines includes 26 professional and consumer products.
Extensive knowledge, years or research and experience provided the basis for the development of Sonage advanced product lines. Sonage means e;His or Here; age in French. Ecologically aware and formulated without any unnecessary additives, these time-release products incorporate the latest discoveries and natures purest botanical extracts. Required preservatives used to maintain product purity and quality are in minimal concentration and clinical human trial is chosen over animal testing. All Packaging is recyclable.


Click here for PRICES or to PURCHASE.. - Click here for PRICES Sorted Alphabetically..





<!a href=''>

A Plus Longevity Complex  
Beneficial for cell turnover, healing and to reduce skin hydration, A+ Night Topical helps pave the way for plumper, healthier and more vibrant skin. It's anti-oxidant content (Vitamin A, Retinol, Hyaluronic Acid, Lipoic Acid, Vitamin E, Vitamin C....more

<!a href=''>

Hydrating Cleanser  
A gentle, luxurious lotion cleanser for dehydrated skin, featuring a wealth of essential oils and botanical extracts for maximum hydration. Jojoba oil reduces water loss, leaving skin soft and supple. Skin stays hydrated with Hazelnut oil and high le....more

<!a href=''>


Luster Eye Contour Creme  
This soothing eye creme has a cooling effect on the skin. It promotes lymphatic drainage to reduce puffiness, hydrate, and stimulates the skin's natural moisture. Featuring Vitamins A, B, C, and E.


<!a href=''>

R and R Peptide-Packed Eye Serum  
The R and R Peptide-Packed Eye Serum includes cucumber, algae, amla extracts with calming, anti-inflammatory properties and multiple peptides that combat under-eye circles.

<!a href=''>

Rejuvenating Vitamin Mask  
Rejuvenating Vitamin Mask A vitamin and protein rich mask to energize dull complexion Dry/Mature/Dehydrated Skin Types Ultra replenishing mask containing Vitamins A, D & E Increases elasticity and pulls moisture to skin surface Helps foundation, exce....more

<!a href=''>

BioSyl Peptide Booster  
Soothing creme with intensive healing properties promotes skin rejuvenation, enhances skin tone while protecting against oxidative stress Mature/Dry/Dehydrated Promotes healthy skin renewal, excellent for scar repair Oligopeptides (EGF's) reduce t....more

<!a href=''>

Hydrating Rinse  
This hydrating toner restores the skin's PH balance, featuring a blend of naturally fragrant essential oils to help hydrate and relieve dryness. Geranium oil stimulates cellular growth, regeneration and oxygenation, while Lavender oil balances and....more

Currently out of stock
6.7 oz.   $24.00
Please call store for More Information

---

---