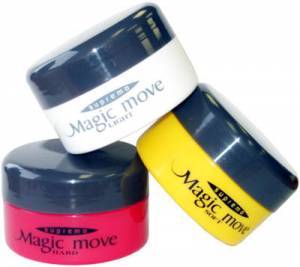 MAGIC MOVE is the most appropriate hair-cosmetics for such hair damaged by chemical treatments and/or enviromental pollution. Gives hair body with an action of thready organic fibers like a net and finishes hair in sleek feeling.

It does not harden hair excessively, adds flowing moves to hair and allows you to change hair-style repeatedly in the same day.

You may hold a formed hair-style for many hours, as it may not be influenced by tempature or by humidity.

It highlights colored hair as well, and also can be washed with shampoo.

It is a cosmetics of a new genre, offering quick and easy application.

Use with hot rollers for a wavy look.

Use with buns twists and braids even allows you to redo your hair. Magic Move keeps hair in place without stiffness.

For the First time ever, sculpt your hair with your hands!