---
Intaglio Skin Care Products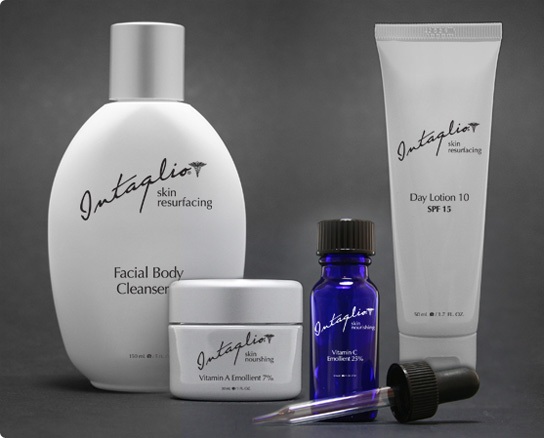 Intaglio is an advanced line of cosmeceuticals products designed to provide solutions and results for aging, acne and hyper pigmented skins. Over the years, through continued research and development, Intaglio has succeeded in delivering the most advanced pharmaceutical grade formulas on the market. Intaglio was first introduced to professionals in the medical and spa industry to provide quality treatments along side professionally outlined home care maintenance programs to deliver fast and dramatic results with a life


Click here for PRICES or to PURCHASE.. - Click here for PRICES Sorted Alphabetically..





<!a href=''>

Beta & Alpha Hydroxy acid 10%  
Recommended for normal, combination and oily/acne prone skin types.



A highly effective acne astringent which combines 2% salicylic acid with 10% glycolic acid. This powerful double action blend of glycolic and salicylic resurfaces dead cell....more



<!a href=''>

Skin Nourishing Soothing Cream  
An anti-inflammatory cream that reduces erythema. Using a new technology of avocado and fractional distillates of lemon rind and hops with Vitamin K to soothe and calm skin.

<!a href=''>

Clear Sal Cleanser - 2%  
This antibacterial gel cleanser penetrates deep into the pores, reducing bacteria and excess oils. It is effective in controlling blemishes and acne while improving skin tone and texture. 2% Salicylic Acid (pH 3.8-4.0)


<!a href=''>

Facial-Body Cleanser 3%  
Recommended for all skin types (except rosacea prone or sensitized).



A light weight, fragrance free cleanser containing 3% glycolic acid to effectively resurface skin impurities, removing accumulation of dead skin cells.



Apply a s....more




<!a href=''>

Theraputic Cleanser  
This therapeutic wash in enriched with Vitamins A, B, C and E and suitable for all skin types, especially sensitive and irritated skins. This cleanser helps prepare the skin for necessary absorption of nutrients; it gently removes make-up and impurit....more

<!a href=''>

Skin Resurfacing Exfoliating Liquid Luffa  
Recommended for all skin types.



A gentle exfoliator which gently exfoliates and removes surface dead skin cells while assisting in the action of resurfacing products.



Gently massage into the skin in a gentle circular motion. Rinse....more



<!a href=''>

FMO Purifying Mask  
A medicated mask to help control blemishes while reducing redness and inflammation. Contains 1% salicylic acid as an active ingredient.


<!a href=''>

Rejuvinating Mask  
Recommended for all skin types, especially sun damaged.



An antioxidant enriched mask with vitmains A, B, C and NMF (Natural Moisturizing Factor) designed to combat environmental damage and stress helping to promote a healthy complexion. Ski....more



<!a href=''>

Hydrating Moisturizer  
Recommended for all skin types, especially very dry, dehydrated skin conditions.



A superior ultra-rich antioxidant moisturizer with vitamins A, B, C, E Hyaluronic Acid, Allantoin, and NMF (Natural Moisture Factor) to protect the skin from f....more




<!a href=''>

Intaglio Vitamin A  
Recommended for all skin types, especially rosacea prone and sensitive.



A lightweight lotion providing topical vitamin A therapy that will visibly enhance and rejuvenate the health and the appearance of your skin. Skin is visibly smoother w....more




<!a href=''>

Soothing Cream  
This moisturizing and soothing cream contains Avocado, Hops and Vitamin K to reduce inflammation and facial redness while de-sensitizing irritated skin

<!a href=''>

Replenishing Toner  
A nourishing toner with antioxidants that assist in recovery of the skin barrier. Soothing, Hydrating and protective against ultraviolet rays. Oil-free.


<!a href=''>

Skin Resurfacing AHA Glycolic Astringent 8%  
Tones and removes excess oil and dirt. A great product for oily or acne-prone skin and also a great step to prepare skin to get the maximum result from theraputic products.

Intaglio Vitamin A 7%  
A lightweight antioxidant lotion that contains 7% Retinyl Palmitate


<!a href=''>

Resurfacing Gel 15%  
Recommended for all skin types (except sensitized and rosacea prone).
An active resurfacing gel containing 15% glycolic acid to provide deep exfoliation
for aging, sun damage, acne and scarred skins. This intensive gel accelerates cell t....more