---
Guinot Skin Care Products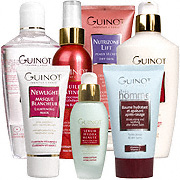 Guinot products has developed products recommended exclusively by professionals, who create customized beauty treatments for you.Every skin is different and is exposed to different conditions, such as the environment and climate. Guinot products are formulated as a response to specific needs. They all act in synergy, by an exclusive method.



For more than 30 years, Guinot has been developing Skin Care products that are recommended exclusively by professionals, creating custom Beauty Treatments for you.


Click here for PRICES or to PURCHASE.. - Click here for PRICES Sorted Alphabetically..





<!a href=''>

Long Vie Cellularire  
Guinot Long Vie Cellulaire ,technically advanced formula with 56 healing,nourishing,and revitalizing ingredients.A multivitamin for the skin,the skin is internally strengthened and feels firmer after the first application.Reduces the appearance of pi....more


<!a href=''>

Pleine Vie,Youth Replenshing Skin Cream  
Guinot Pleine Vie,stimulates cellular functions,boosts collagen and Elastin production.Wrinkles and fine lines becomes less pronounced,skin regains its optimum moisture level,compensates for deficiencies in the skin often hormone related,fights free ....more

<!a href=''>

Eau Demaquillante Parfaite, One Step Cleansing Water  
Guinot Eau Demaquillante Parfaite, One Step Cleansing Water, Quick and easy to use, ideal for the person on the go. Purifies and cleanses the skin. Tones and moisturizes. Rinse free formula. Leaves skin feeling soft and refreshed. Adaped to all skin ....more


<!a href=''>

Hydra Sensitive Gentle Cleanser  
Guinot Doux Demaquillant Hydrallergic,Gentle Cleanser,gently and thoroughly cleanses the skin,extremely mild formula,effective cleanser for sensitive and reactive skin.


<!a href=''>

Hydra Tendre, Soft Wash-Off Cleansing Cream  
Guinot Hydra Tendre A very deep gentle cleansing cream which is rinsed off with water. Eliminates make-up and impurities quickly.All Skin Types.


<!a href=''>

Refreshing Cleansing Milk  
Guinot Lait Hydra Fraicheur,Cleansing Milk,with flower extracts, A mild delicate cleansing milk which instantly removes impurities from the face.

<!a href=''>

Hydrazone Yeux  
Hydrazone Yeux - Eye Contour, Long lasting, hydrating. Continuous hydrating serum cream. Smooths crows feet. Plumps up creased eye lids. Eye area looks brighter, younger.



<!a href=''>

Longue Vie Eye  
Reduce the marks of wrinkles and fine lines around your eyes with Guinot Eye Lifting Smoothing Creme. It reduces puffiness and minimises the appearance of circles, while lifting and smoothing your eyelids.



The texture of Guinot Longue Vie Y....more



<!a href=''>

Mask Essential Nutrition Confort  
Guinot Mask Essenttial Nutri Confort contains Avocado oli,Camphor,Menthol and Titanium Dioxide,it minimizes dehydration lines,moisturizes epidermis and relaxes sign of fatigue.Brighetns the complextion.


<!a href=''>

Mask Vital Antiride, Anti-Wrinkle Mask  
Guinot Mask Vital Antiride the relaxing effect of this mask is immediately visible after every application.Wrinkles are smoothed,the face looks younger and the complexion fresh.Use 1-3 times a week.

<!a href=''>

Base Vital Antirides,Anti- Wrinkle Day Cream  
Guinot Base Vital Antirides,Anti-Wrinkle Day Cream,signs of aging are diminished and the skin is revitalized,it reinforces the skin tone and elasticity,gives UVA/UVB protection,enriched with collagen and elastin.


<!a href=''>

Beaute Neuve w/Fruit Acids,all Skin Types  
Guinot Beaute Neuve leads to a deeper exfoliatial effect without irritation. Accelerates the elimination of dead cells by stimulating the rise of new cells.


<!a href=''>

Creme Hydra Beaute,Long- Lasting Moisturing Cream  
Guinot Creme Hydra Beaute restore moisture to dehydrated skin,smooth out fine lines,restores a luminous skin and a radiant complextion.


<!a href=''>

Creme Hydra Senstive  
This protective cream shields sensitive skin against harsh environmental conditions while soothing and calming feelings of irritation. It reinforces and supports the skin's natural defenses, allowing it to maintain a calm and comfortable existence....more


<!a href=''>

Creme Nutrition Confort,Dry Skin  
Guinot Cream Nutrition Confort,formerly Day Long Moisturizer, Revitalizes the complexion and minimizes dehydration lines,moisturizes the epidermis and relaxes signs of fatigue.Brighthens the complexion.



<!a href=''>

Creme Protection Reparatrice Face Cream  
Replaces Cream Extra Protection,a protective face cream that creates a barrier around sensitive skin to deflect the harmful effects of environmental stress and pollution. Formulated with Omega 6 to reinforce the skinís natural protective coating, the....more


<!a href=''>

Hydrazone Moisturizing Cream,All Skin Types  
Guinot Hydrazone,All Skin,a light cream designed for all skin types.It contains liposomes which distill just the amount of water needed to balance the skin against the drying effects of low humidity,sun,wind and cold.


<!a href=''>

Hydrazone Moisturizing Cream,Dehydrated Skin  
Guinot Hydrozone,Dry Skin is for dehydrated dry skin.The softness of this cream is perceptible as soon as it is applied and it provides permanent comfort.Restores the skin hydrolipidic film,plumps dry skin.UVA/UVB filters shield the skin against the ....more


<!a href=''>

Nutrizone, Dry Skin  
Guinot Nutrizone,Dry Skin,protects against environmental effects.Contains Vit.A&E,zinc,copper and magnesium.Enriches dry skin with precious nutrients.Restores ideal protection and comfort,boosts the production of natural lipids.


<!a href=''>

Rich Lift Firming Cream  
Lift Firming Cream,helps to mend elastic tissue and firm the skin,enriched with Collagen,it reinforces the sructure of the epidermis,stimulates cellular activity.

<!a href=''>

Lotion Hydra Fraicheur, All Skin Types  
Guinot Lotion Hydra Fraicheur - Refreshing Toning Lotion replenishes the crucial moisture barrier of the skin in a gentle and soothing formula. Ginseng tones and renews the skin, while aloe hydrates and soothes. This alcohol-free toner also protects,....more


<!a href=''>

Lotion Hydra Fraicheur, All Skin Types  
Guinot Lotion Hydra Fraicheur - Refreshing Toning Lotion replenishes the crucial moisture barrier of the skin in a gentle and soothing formula. Ginseng tones and renews the skin, while aloe hydrates and soothes. This alcohol-free toner also protects,....more