---
Joico Hair Care Products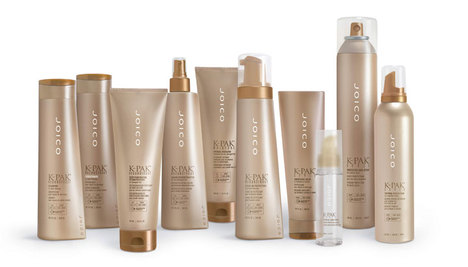 Joico hair care products is like no other line of hair care products. Its the first complete hair care system designed around the unique reconstructing qualities of hydrolyzed human hair keratin protein. We call our exclusive blend of this protein Triamine Complex® Formula.


Click here for PRICES or to PURCHASE.. - Click here for PRICES Sorted Alphabetically..



JOICO

Joico is like no other line of hair care products. It's the first complete hair care system designed around the unique reconstructing qualities of hydrolyzed human hair keratin protein. We call our exclusive blend of this protein Triamine Complex® Formula.
MW 150-800-1800 is Joico exclusive molecular weight combination of hydrolyzed human hair keratin protein. This combination allows our Triamine Complex Formula to penetrate deep into your hair. With the addition of Cationic Triamine Complex, which targets cuticle damage, even the most serious damage is repaired.
Together, they repair damage while adding strength, condition and shine, to leave your hair feeling refreshed and full of body!
<!img SRC="girl1.jpeg" align="left" WIDTH="104" HEIGHT="165">
<!a href=''>

K Pak Deep Penetrating Reconstructor  
Joico K Pak Reconstructors ,deep penetrating reconstructive treatment that rebuilds and improves the quality and structure of hair.Strengthens hair inside and out.


<!a href=''>

K Pak Deep Penetrating Reconstructor  
Joico K Pak Reconstructors ,deep penetrating reconstructive treatment that rebuilds and improves the quality and structure of hair.Strengthens hair inside and out.


<!a href=''>

K-PAK Color Therapy Conditioner  
Hair is nourished and hydrated, leaving it instantly smoother, shinier and more vibrant. With continued use, hair's strength, elasticity and resiliency are restored. Haircolor is protected from fading that can be caused by environmental stresses and ....more


<!a href=''>

K-PAK Color Therapy Conditioner  
Hair is nourished and hydrated, leaving it instantly smoother, shinier and more vibrant. With continued use, hair's strength, elasticity and resiliency are restored. Haircolor is protected from fading that can be caused by environmental stresses and ....more


<!a href=''>

K-Pak, Reconstruct Daily Conditioner  
K-Pak, Reconstruct Daily Conditioner - This moisture rich daily conditioner reconstructs and strengthens damaged hair. Detangles and eliminates static while leaving hair smooth, silky and shiny.



<!a href=''>

K-Pak, Reconstruct Daily Conditioner  
K-Pak, Reconstruct Daily Conditioner - This moisture rich daily conditioner reconstructs and strengthens damaged hair. Detangles and eliminates static while leaving hair smooth, silky and shiny.




<!a href=''>

Moisture Recovery Conditioner  
Designed for: dry hair

Benefits:
This technologically advanced marine-based conditioner contains Hydramine Sea Complex, Quadramine Complex and jojoba oil to provide the ultimate in moisture replenishment for dry hair.

Dry hai....more


<!a href=''>

Moisture Recovery Conditioner  
Designed for: dry hair

Benefits:
This technologically advanced marine-based conditioner contains Hydramine Sea Complex, Quadramine Complex and jojoba oil to provide the ultimate in moisture replenishment for dry hair.

Dry hai....more

<!a href=''>

K-PAK Liquid Reconstructor.  
Designed for: fine, damaged hair Benefits: This intense leave-in reconstructive liquid protein spray offers fine hair strength, shine and support without added weight. Fine, lifeless hair has restored vitality, strength and elasticity. Clinical resul....more

Currently out of stock
10.1 oz   $29.75
Please call store for More Information

---

---
<!a href=''>

K-Pack Thermal Designing Foam  
K-Pack Thermal Designing Foam,meduium hold adds body and heat activated,protects dry damaged hair.

Currently out of stock
10.2 oz   $25.00
Please call store for More Information

---

---
<!a href=''>

K-PAK Color Therapy Shampoo  
This color-preserving, reconstructing shampoo gently cleanses hair while improving its elasticity and shine and preventing color loss. Breakthrough QuadraBond Peptide Complex™ restores and protects hair's natural B-layer, resulting in more vibrant, l....more


<!a href=''>

K-PAK Color Therapy Shampoo  
This color-preserving, reconstructing shampoo gently cleanses hair while improving its elasticity and shine and preventing color loss. Breakthrough QuadraBond Peptide Complex™ restores and protects hair's natural B-layer, resulting in more vibrant, l....more


<!a href=''>

K-Pak, Reconstruct Shampoo  
Joico K-Pak, Reconstruct Shampoo, for damaged hair - Developed to begin the reconstruction process, this rich formulation cleanses the hair gently while drenching it in a rich, luxurious lather. Leaves hair soft and manageable without weighing it dow....more


<!a href=''>

K-Pak, Reconstruct Shampoo  
Joico K-Pak, Reconstruct Shampoo, for damaged hair - Developed to begin the reconstruction process, this rich formulation cleanses the hair gently while drenching it in a rich, luxurious lather. Leaves hair soft and manageable without weighing it dow....more


<!a href=''>

Moisture Recovery Shampoo  
Designed for: dry hair

Benefits:
The first step to revitalizing dry hair.

This hair-quenching shampoo provides gentle cleansing while restoring hair s moisture level.

Moisture Recovery s exclusive Hydramine Sea Com....more


<!a href=''>

Moisture Recovery Shampoo  
Designed for: dry hair

Benefits:
The first step to revitalizing dry hair.

This hair-quenching shampoo provides gentle cleansing while restoring hair s moisture level.

Moisture Recovery s exclusive Hydramine Sea Com....more