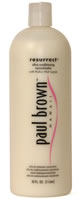 Click Here To Sort List Alphabetically
Paul Brown Products
Paul Brown has the following types of products available for sale by Joybeauty.com:
Conditioner, Gel, Mousse, Shampoo, Treatment,
Paul Brown products for Chemically Treated & Damaged Hair WASHE ELITE was formulated to nuture and enhance abused hair. Hawaiian Protein Flora Complex™ and Kukui Nut Oil work to refine and restore the hairs natural brilliance and facillitate styling versatility. The highly unsaturated oils of the Kukui Nut are easily absorbed into the hair, imparting a soft luster without build-up to weigh down the hair.