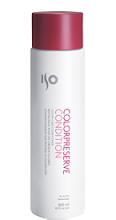 Click Here To Sort List Alphabetically
ISO Products
ISO has the following types of products available for sale by Joybeauty.com:
Conditioner, Curl Activator, Hair Spray, Shampoo, Straightening Balm,
ISO begins with health; it is health, feeling good inside and out that allows true beauty to emerge. ISOs styling and finishing collection transforms hair with new energy and vitality, restoring hair to its healthiest, most manageable state. All formulations are designed to work together or independently to create a foundation that will hold your style and leave your hair looking its radiant best.