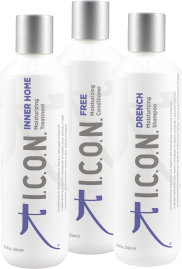 Click Here To Sort List Alphabetically
ICON Hair Products
ICON has the following types of products available for sale by Joybeauty.com:
Conditioner, Gel, Hair Spray, Mousse, Shampoo, Styling,
ICON hair products are as good for the inside as they are for the outside. Shampoos are sulfate-free, conditioners and treatments are filled with anti-agers, our A.C.E. of vitamins and all are color-safe. Our regimedies combine a shampoo, conditioner and treatment to take hair to a new dimension repairing and preparing it for style.