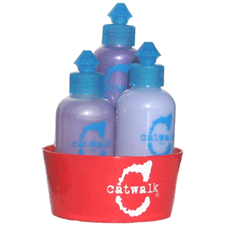 Click Here To Sort List Alphabetically
Catwalk Hair Products
Catwalk has the following types of products available for sale by Joybeauty.com:
Conditioner, Gel, Hair Spray, Leave in Conditioner, Mousse, Shampoo, Styling,
Specifically designed for every type of hair - normal, naturally dry hair, chemically treated, to totally overstressed hair! TIGI research has discovered new information relating to the specific needs for differing lengths of hair. In other words, short hair has different needs and requirements to that of long hair. For this reason, TIGI has incorporated products to cater for the entire spectrum.