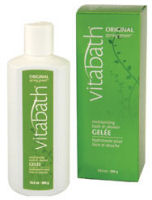 Click Here To Sort List Alphabetically
Vitabath Bath
Vitabath has the following types of products available for sale by Joybeauty.com:
Bath and Shower, Body Lotion,
Born of European heritage, the Vitabath Classic Brand turns a bath or shower into something luxurious. A daily essential for those loyal to good skincare, Vitabath is uniquely invigorating- yet relaxing. A soothing sensation that at once energizes, calms, and exhilarates. Fortified with bodyskins own natural vitamins and infused with everything that nurtures healthy skin. Vitabath is the worlds most indulgent line of bath and shower products! It softens the skin and affects the sences. Vitabath is a product to trust! Its reputation precedes its use. The brand is known and has demonstrated that it provides serious daily bodyskin care. Vitabath is unique in its level of vitamins, mineral, nutrients and emollients. Vitabath is more than a line of bath and shower products, its a craving!!!