---

Pevonia Skin Care Products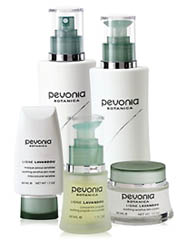 With Pevonia products you experence a realm of skin care far beyond the norm. Each and every pore is drenched with natures most selective ingredients. Every inch of skin on your face receives rejuvenating theraphy from 100% unadulterated plant extracts and essential oils. In formulation, every sensitizer and photo-sensitizer has been meticulously eliminated. Non-comedogenic and non-animal tested.

Pevonia Skin Products contains no artifical colors or fragrance, no alchol, no chemical fillers, no mineral oil, no lanolin nor PABA. and are non-animal tested. Pevonia ensures your beauty needs are specifically, reputably and reliably fulfilled. Pevonia's formulations and technologies constantly evolve and progress parallel to your skin care concerns and the world's scientific developments. Pevonia Botanica…always researching…always implementing…continuously leading the way towards face, body and spa care excellence.





Click here for PRICES or to PURCHASE.. - Click here for PRICES Sorted Alphabetically..






<!a href=''>

Clarifyl Care Cream(with Glycolic Acid)  
Pevonia Clarifyl Care Cream,this light-textured, oil-free cream contains Glycolic Acid, Calendula and Panthenol to ensure skin is soothed, hydrated and desensitized. It is excellent for preventing pore clogging and blackheads formation. UV protection....more


<!a href=''>

Clarigel Exfoliating Cleanser  
Pevonia Clarigel Exfoliating Cleanser,this unique and effective cleanser containing: Soapwort, Triclosan, Grapefruit Oil and Citric Acid, gently emulsifies sebum and impurities promoting intense cleansing for problematic skin. Leaves skin fresh and b....more


<!a href=''>

Dry Skin Cleanser  
Render your skin refreshingly clean! Cleansing and refreshing, Dry Skin Cleanser lifts off impurities as it counteracts dryness. Delightfully creamy, fluffy, and water-soluble, it leaves no filmy residue. Repairing arnica and hydrating cucumber work....more


<!a href=''>

Fundamental Cleanser,Combination Skin  
Rinse away T-zone oiliness! Refreshing and balancing, Combination Skin Cleanser thoroughly washes away impurities and cleanses your oily T-zone. Hydrosoluble, creamy, and light-textured, it easily rinses away without residue. Harmoniously combining R....more


<!a href=''>

Gentle Exfoliating Cleanser,all Skin Types  
Exfoliate for healthy skin! Gentle Exfoliating Cleanser gently polishes your skin with its unique creamy, granular texture. Wash away impurities and toxins with a precise formulation of Jojoba Beads, Saponaria, and Chamomile for a clean and smooth co....more


<!a href=''>

Lavandou Cleanser, Sensitive Skin  
Cleanse without irritability or discomfort! Soothing and light-textured, Sensitive Skin Cleanser gently removes accumulated impurities, while diffusing redness and irritation. Water-soluble, it easily rinses away for a fresh, revitalized complexion. ....more


<!a href=''>


Power Repair Hydrating Cleanser  
A hydrating anti-aging cleanser Helps effectively remove dirt, excess oil & makeup Formulated with marine collagen & elastin to firm & re-sculpt facial contour Visibly reduces the appearance of fine lines & wrinkles Contains botanical extracts of oat....more


<!a href=''>

Purilys Phyto Gel Cleanser,for Oily Skin  
Foam away impurities! Enticingly aromatic, Phyto-Gel Cleanser provides a delightful natural soft lather for deep cleansing. Saponaria, Rosemary, Lemon, and Pine, precisely blend to rid your skin of impurities and surface toxins. Non-alkaline and non-....more


RS2 Gentle Cleanser, Rose Line  
Cleanse and desensitize! Ideal for hypersensitivity, this creamy, hydrosoluble RS2 Gentle Cleanser gently removes impurities while calming and desensitizing. Experience the cooling and decongesting benefits of Allantoin and French Rose essential oil ....more


<!a href=''>


Timeless Balm Cleanser  
Unsurpassed silky cleansing! An innovative formulation provides this exceptional Timeless Balm Cleanser its smooth and silky texture. Foaming upon contact with water, its rich and soft lather gently, yet thoroughly cleanses. Hydrosoluble, it rinses e....more


<!a href=''>

RS2- Concentrate,Rose Line  
Pevonia RS2- Concentrate,a light gel highly concentrated in active ingredients that provides immediate relief, comfort and coolness. This powerful concentrate combines Green Tea and Licorice with other ingredients to radically improve skin's chronic ....more



<!a href=''>

Evolurive Eye Cream  
Pevonia Evolurive Eye Cream,non-Greasy, this eye cream contains Vegetal Squalane Oil and Vitamins A, E, B, and D, Hyaluronic Acid and Vitamin C, which impressively nourish and firm eye contour while softening and smoothing skin texture and minimizing....more


<!a href=''>

Evolutive Eye Gel C  
Pevonia Evolutive Eye Gel C,containing the latest technology in liposomic structure: Sphérulites. Rich in repairing, hydrating and soothing ingredients such as: Sphérulites of Sodium Hyaluronate and Vitamin "C", this gel reduces puffiness and dark ci....more


<!a href=''>

Eye Make-up Remover Lotion  
Pevonia Eye Make-up Remover Lotion,a gentle, aqueous cleansing lotion for your eyelids and lashes. Lettuce, Cucumber and Arnica perfectly blend to thoroughly remove make-up without irritating the sensitive eye area. Recommended for contact lense wear....more


Power Repair Eye Contour  
Combines Glycolic, Malic Acids and Hazel Nut Oil Leaves eye zone velvety smooth, supple and vibrant Replenishes essential moisture to relieve dryness Apply morning and evening


<!a href=''>

Age Defying Marine Collagen Cream  
Replenish and hydrate! This triphase homogenized Marine Collagen Cream combines Squalane and Marine Collagen to infuse moisture and provide UV protection. Anti-aging, it softens fine lines and wrinkles while replenishing vital nutrients.


Age Defying Marine Elastin Concentrate,all Skin Type  
Pevonia Marine Elastin Concentrate,highly concentrated, the precise blend of Elastin and Jasmine Essential Oil in this concentrate works to tighten the skin while preventing slackening. Use evening before Elastin Cream.


<!a href=''>

Firming Marine Elastin Cream  
Pevonia Marine Elastin Cream,an unctuous and fine textured cream, which works on preserving and improving skin elasticity and tightness. Elastin, Hyaluronic Acid, Squalane and Aloe provide the perfect combination for delivering results. UV protection....more


<!a href=''>

Intensifier Collagen & Myoxy-Caviar Collagen Concentrate  
Pevonia Power Repair Intensifier Collagen & Myoxy-Caviar saturates the skin with potent polypeptides and rejuvenative extracts to dramatically diminish the visible signs of premature aging. This aqueous, weightless bio-micro gel delivers amazing visi....more


<!a href=''>

Power Repair Intensifier Collagen & Myoxy-Caviar  
Visibly repair! Experience the visible benefits of this unique bio-microemulsified gel rich in concentrated Marine Collagen and Myoxy Caviar. This concentrate nourishes and oxygenates skin, repairs cells and diminishes fine lines and wrinkles. The si....more


<!a href=''>

Radiance Glycocides Cream  
Pevonia Radiance Glycocides Cream,Glycolic Acid, Hyaluronic Acid, Vitamin E and Chamomile, enable this highly smoothing formula to reduce the appearance of fine lines, leaving skin rejuvenated, hydrated and soft. UV protection. Use morning or evening....more


<!a href=''>

Refining Marine D.N.A. Concentrate  
Pevonia Marine D.N.A. Concentrate,D.N.A. and Gardenia Essential Oil combine to deliver an ideal solution for tightening dilated pores, smoothening skin surface and eliminating uneven texture. Use evening before D.N.A. Cream.



<!a href=''>

Refining Marine DNA Cream  
Pevonia Marine DNA Cream,light-textured, this cream refines skin surface while minimizing enlarged pores. D.N.A., Ginkgo Biloba and more work together to deliver smoother skin and tighter pores. UV protection. Use morning or evening.



<!a href=''>

Fundamental Care Cream, Combination Skin  
Pevonia Fundamental Care Cream,light-textured, a perfect blend of Hazel Nut Oil, Aloe, Elder…ensure skin is nourished and repaired while oily secretions are balanced. UV protection. Use morning and evening.


<!a href=''>

Lavandou Care Cream, Sensitive Skin  
Pevonia Lavandou Care Cream,containing the latest calming and soothing ingredients such as Hazel Nut, Bisabolol, Vitamins B & E… this light-textured cream offers UV protection. Use morning or evening.


<!a href=''>

Matifying Oily Skin  
Pevonia Purilys Care Cream,light and greaseless, sebaceous gland secretions are controlled and skin is normalized. Grapefruit Essential Oil, Sorbitol, Pine…assist in refining skin texture. UV Protection. Use morning or evening.


<!a href=''>

Reactive Skin Care Cream  
An ideal cream to soothe and provide immediate comfort for irritated and super sensitive skin.



Providing environmental protection, this cream is ideal for soothing and delivering relief to super sensitive skin. Shea butter, calendula and mi....more




<!a href=''>

Rejuvenating Dry Skin Cream  
Pevonia Sevactive Care Cream,suave and non-greasy, rich in micronized vitamins and phyto-extracts such as: Horsetail, Aloe, Rosemary, Hops... helps maintain skin's moisture level and tone. UV protection


<!a href=''>

RS2 Care Cream,Rose Line  
Pevonia RS2 Care Cream,healing and calming, this wonderfully unctuous textured cream blends Green Tea, Licorice, Hazel Nut Oil and more to deliver soothing and desensitizing effects to Rosacea and sensitive skin. UV protection. Use morning and evenin....more


<!a href=''>

C Complex  
Pevonia Ligne Soin O2ptimal Complex,this high concentration of active ingredients such as: Vitamin C, and Hyaluronic Acid, oxygenate, reduce wrinkles, smooth skin, and enhance elasticity promoting repair and radiance. Recommended for all skin types. ....more


<!a href=''>

Enzymo-Spherides Peeling Cream,all Skin types  
Experience the cutting-edge technology of this cream's unique enzymes entrapment. Enzymo-Sphérides® Peeling Cream offers encapsulated enzymes in micro-sphérides for maximum activity upon contact with your skin. Pineapple and Papaya enzymes eliminate ....more


<!a href=''>

Dry Skin Lotion  
Pevonia Sevactive Lotion,the healing effects of Chamomile, Aloe...complete a perfect cleansing program leaving skin smooth and prepared for further treatment. Alcohol free.


<!a href=''>

Fundamental Lotion,Combination Skin  
Pevonia Fundamental Lotion,fresh and light, this alcohol-free lotion sprinkles Rosemary Essential Oil, Aloe… over skin leaving it refreshed and toned. Use morning and evening.


<!a href=''>

Lavandou Lotion, Sensitive Skin  
Pevonia Lavandou Lotion,completing a perfect cleansing, Lavender, Azulene, Aloe…leave skin soft, smooth and decongested. Alcohol free. Use morning and evening.


<!a href=''>

Power Repair Hydration Toner  
Pevonia Botanica Power Repair Hydrating Toner is a hydrating, anti-aging toner lotion for the face. It delivers nutrient-rich moisture to promote a youthful, radiant complexion.
Collagen and elastin helps improve tone and texture. Hyaluronic acid ....more


RS2 Gentle Lotion  
Pevonia Rosacea Gentle Lotion is an alcohol free lotion that perfects a thorough cleansing. Precisely combining Licorice, Green Tea and Chamomile, Pevonia Rosacea Gentle Lotion is soothing, decongesting, calming, hydrating, diffusing redness, and red....more