---

Emergin C Skin Care Products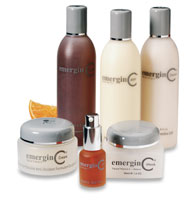 As we age, the supply of nutrients to the skin diminishes, weakening its ability to neutralize free-radicals and function healthily. As a result, our skin becomes more prone to the ravages of time. "Cross-linking" of collagen occurs, wrinkles form and skin loses its natural elasticity and vitality.The Emergin C line incorporates some of the most advanced, effective ingredients known to help fight the signs of aging skin and to keep skin looking its best


Click here for PRICES or to PURCHASE.. - Click here for PRICES Sorted Alphabetically..






<!a href=''>

Multi Vitamin + Retinol Serum  
Emergin C Multi Vitamin Serum + Retinol,this serum is addictive. Excellent for everyone, including sensitive and red skin. Like a one a day for your skin. Strong concentrations of retinol and other vitamins. Anti-aging, anti-oxidant, increases cellul....more


<!a href=''>

Vitamin C Serum 20 %  
Vitamin C Serum,,a stronger concentration of vitamin C for those who need intensive treatment. All skin types, except sensitive. Use morning and or night. Anti-aging antioxidant, fights free radicals, co-factor in the production of collagen, to impro....more

Currently out of stock
1.0 oz   $89.00
Please call store for More Information

---

---

<!a href=''>

Vitamin C Serum with Milli-Capsules  
Emergin C Topical Vitamin C with Milli-Capsules,one of the most stable low pH, high concentration vitamin C Liquid gel serums on the market. Should not ittitate skin. You can get signigicantly more vitamin C to the skin when applied topically (in the....more


<!a href=''>

Vitamin C Eye Serum  
Emergin C Eye Serum,a lightweight C serum designed specificaly for the more delicate eye area. All skin types. Morning or night. Fights the signs of aging, targets fine lines and crows feet, helps to reduce puffiness. Active ingredients: 7% L-ascorbi....more


<!a href=''>

Vitamin C+Retinol Mask  
Mask - Q10 Coenzyme Energizing - A rich mask with coenzyme Q10 that soothes, hydrates, and nourishes. For all skin types. Active ingredients: coenzyme Q10, Vitamin H and Vitamin E.