---

SkinCeuticals Skin Care Products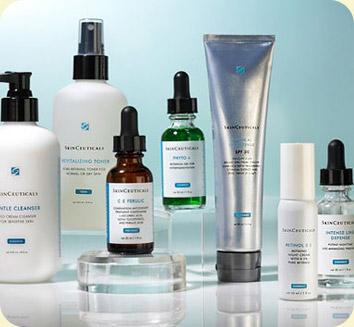 The SkinCeuticals line of products, a pioneer in topical Vitamin C and some of the best sunscreens on the market, was developed by Dr. Sheldon Pinnell. In 1992 he conducted a series of studies that demonstrated the many benefits of topical Vitamin C in the stable form of L-ascorbic acid.

In comparison studies between SkinCeuticals Vitamin C and other Vitamin C products Dr. Pinnells products demonstrated a high level of stability. SkinCeuticals topical Vitamin C products help to improve elasticity and firmness, fight oxy radical damage (skin damage caused by the sun), and minimize the appearance of fine wrinkles. This line also includes superb moisturizers which help to replenish the skins moisture while providing antioxidant protection against free radical damage caused by environmental elements such as the sun and air pollution. Finally, SkinCeuticals sunscreens provide a broad range of protection against UVA and UVB damage and are excellent for prolonged sun exposure as well as everyday use.






Click here for PRICES or to PURCHASE.. - Click here for PRICES Sorted Alphabetically..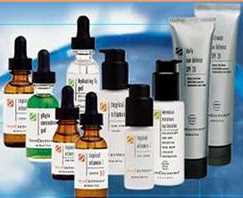 <!a href=''>

SkinCeuticals C E Ferulic  
C E Ferulic is a revolutionary topical antioxidant combination that provides unprecedented 8 times the skin s natural photoaging protection. C E Ferulic contains ferulic acid, a new antioxidant that doubles the synergistic benefits of C + E - neutral....more


<!a href=''>

Gentle Cleanser  
Formulated for sensitive or traumatized skin, this mild cream cleanser removes excess impurities and oil without drying the skin. Gentle enough to be used several times daily, this non-irritating cleanser conditions, soothes, and calms sensitive or t....more

Currently out of stock
8 oz   $32.00
Please call store for More Information

---

---

<!a href=''>

Simply Clean  
Skinceuticals Simply Clean,a light moisturizing gel cleanser for combination or oily skin, containing five hydroxy acids and extracts of chamomile, comfrey, yarrow, aloe, and ginseng. Delicate Cleanser will lift make-up, gently exfoliate, and rehydra....more

Currently out of stock
8 oz   $34.00
Please call store for More Information

---

---

<!a href=''>

Hydrating B5 Gel  
Skinceuticals Hydrating B5 Gel,restores hyaluronic acid, your skinís natural moisturizer, and replenishes nutrients the skin needs to feel smooth and appear younger. Enriched with vitamin-B5, known to help with tissue repair, Hydrating B5 Gel is esse....more

Currently out of stock
1.0 oz   $79.00
Please call store for More Information

---

---

<!a href=''>

Daily Moisture  
Skinceuticals Daily Moisture,this moisture replenisher with pure vitamin E and Brazilian algae extracts provides antioxidant protection while delivering proteins and essential minerals to the skin. Also contains burnet, cinnamon and ginger - a newly ....more

Currently out of stock
2.0 oz   $59.00
Please call store for More Information

---

---

<!a href=''>

Emollience  
Skinceuticals Emollience,this replenishing cream containing nutrient-rich marine extracts and oils nourishes and deeply hydrates the skin. It helps restore and maintain moisture. Also promotes tissue repair and wound healing. Goes on smoothly and abs....more

Currently out of stock
2.0 oz   $59.00
Please call store for More Information

---

---

<!a href=''>

Sport UV Defense Sport SPF 50  
This broad spectrum UVA/UVB sunscreen is tested under the most extreme athletic conditions and won't interfere with your workout. Marathon-runner tested and suitable for rigorous sport activities, this oxybenzone-free broad spectrum sunscreen prov....more

Currently out of stock
3 oz   $39.50
Please call store for More Information

---

---

Ultimate UV Defense SPF 30  
Skinceuticals Ultimate UV Defense SPF 30,this sunsreen is the ultimate in sun protection, containing the highest level of transparent zinc oxide available on the market today. It is highly recommended for dry, sensitive skin, or after undergoing lase....more