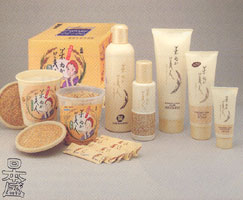 Click Here To Sort List Alphabetically
Komenuka Bijin Products
Komenuka Bijin has the following types of products available for sale by Joybeauty.com:
Cleanser, Essential Oils, Moisturizer, Shampoo,
Komenuka Bijin products is a line of natural skin and hair cleansing products. The products contain top grade rice bran combined with jinseng, seaweed, aloe, chamomile, natural vitamin E, and/or collagen. It provides natural moisture and nourishment to the skin and hair.