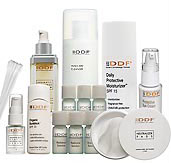 Click Here To Sort List Alphabetically
DDF Products
DDF has the following types of products available for sale by Joybeauty.com:
Acne, Cleanser, Toner,
DDF products combines proven pharmaceuticals with natural botanicals for solutions to every skincare concern - from blemishes, to sun protection, to anti-aging therapies. DDFs range of treatments incorporate the most advanced skincare ingredients, including retinol, glycolic acids, antioxidant vitamin complexes, growth factor complexes, and marine extracts.


DDF Skin Products is a unique line of skin care products developed by a leading New York dermatologic surgeon, certified by the International Board of Plastic Aesthetic and Re-constructive Surgery; in cooperation with a renowned pharmaceutical chemist. These products whose combined ingredients bring maximum benefits to the skin, were created to be medically effective, safe and esthetically appealing. Our goal is more than just product superiority. We care about total quality management, which means we care that you receive top quality service in addition to products.