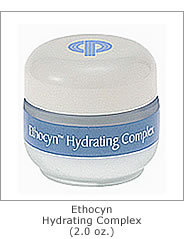 Click Here To Sort List Alphabetically
Chantal Ethocyn Skin Care Products
Chantal has the following types of products available for sale by Joybeauty.com:
Cleanser, Eye, Firming,
Chantal Ethocyn is a synthetic compound that blocks certain hormone receptors in the skin when applied to the surface of the skin. Research has shown that it allows the skin of people over 40 to produce elastin fiber tissues at rates similar to people in their 20s. By 2 months the elastin tissue levels are comparable to the levels found in 18 to 25 year olds. Ethocyn can be expected to decrease wrinkles and to make skin smoother. Results are noticeable even with facial movement and speech. This amazing ingredient is in all of the Ethocyn Skin Treatment line by Chantal.